The Relationship
Safety Skills Handbook
Stop domestic, dating, and interpersonal violence with knowledge, action, and skills!
This empowering handbook is for victims of, or people at risk of, interpersonal, dating or domestic violence, and the support people in their lives, to learn 'People Safety' concepts and skills to help them prevent or stop future violence.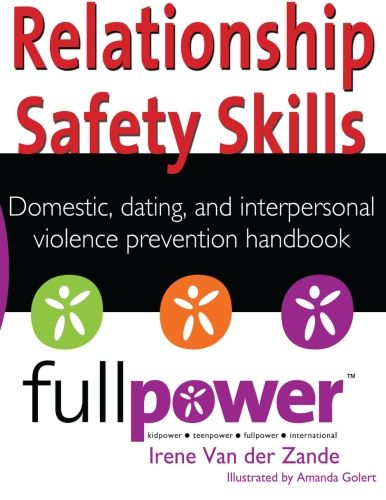 The skills and lessons in this book prepare teens and adults to recognize what is and is not safe in a relationship and to know how to take charge of their emotional and physical safety. This book is designed to be used by victims and potential victims of relationship violence, as well as the support people in their lives. Support staff at organizations serving people at risk of, and those who have suffered from, relationship and domestic violence, can use this book as a tool to foster the integration of Kidpower's 'People Safety' skills into their everyday work. This book can also be used directly with teens and adults affected by, or at increased risk of experiencing, emotional abuse or domestic violence. Cartoon-illustrated social stories and explanations provide an entertaining way to explain different concepts and skills.
Concepts and skills include:
Assessing what is safe and unsafe behavior in a relationship
Setting effective boundaries
Controlling emotional triggers
Taking the power out of verbal attack
Leaving a potentially dangerous situation as safely as possible
Verbal self-defense tactics
Getting help effectively
And lesson plans for how to teach these skills to others
My daughter participated in a Fullpower program as part of a Victim's Assistance program. It changed her life forever! She became empowered, confident, happier and has carried her lessons throughout her life. I'm so grateful!
Learning the skills has enabled me to find my voice, and to learn how to set my own boundaries better – to be and act aware and safer, and to be more assertive, while still being respectful.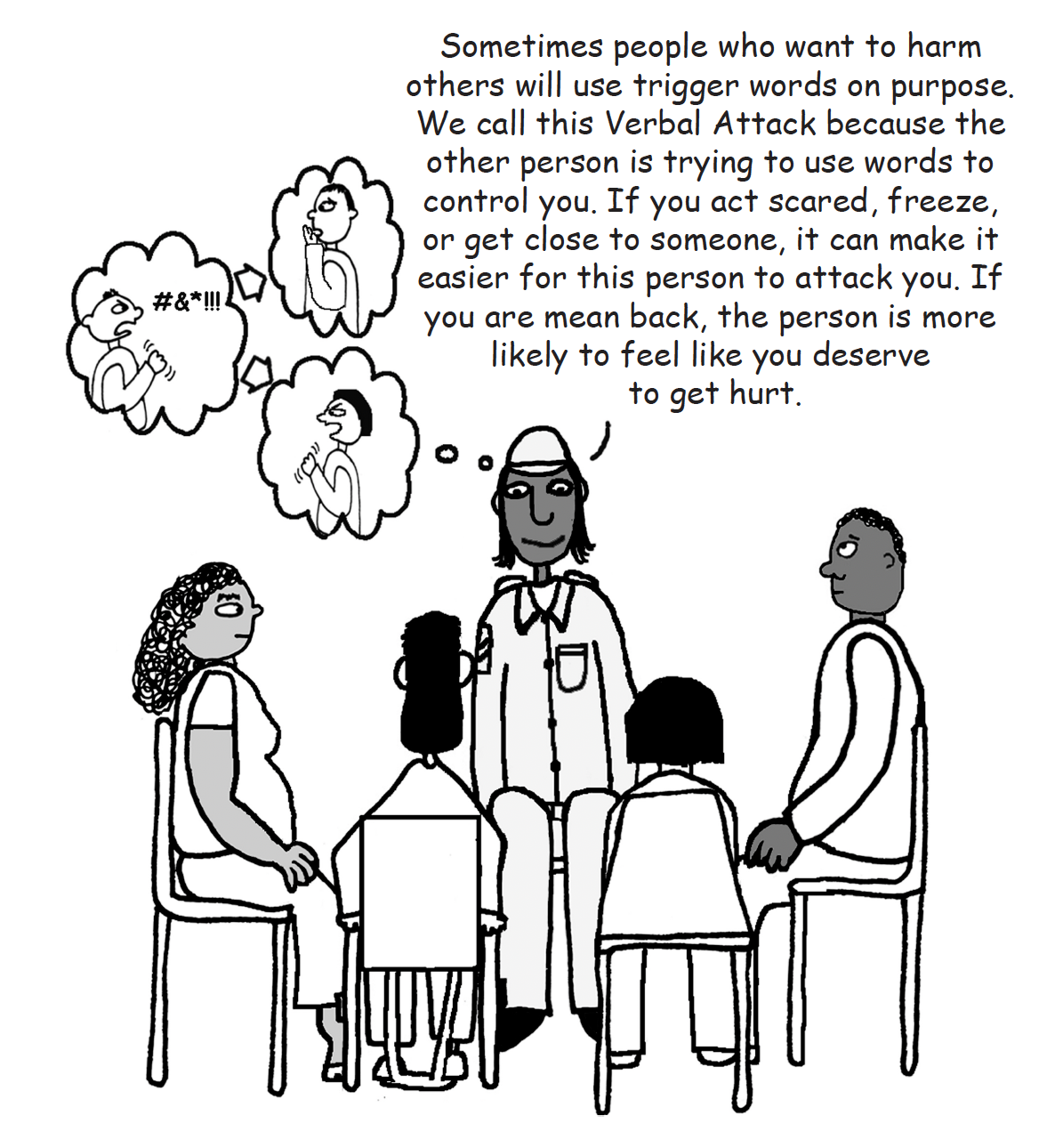 Table of Contents
Part One: A Foundation for Learning About Boundaries and Relationship Safety
What Is People Safety?

Assertive Advocacy

An Introduction to Setting Boundaries With
People You Know

Building Emotional Safety By Speaking Up
About Putdowns

People Safety Education to Help Stop Domestic and Relationship Violence
The Power of Successful Practice

Boundary-Setting Workshop

People Safety Tools for Protecting Sexual Safety for
Teens and Adults

People Safety Tools to Help Prevent Substance Abuse
for Teens and Adults
Part Two: Coaching Guides for People Safety Practices
Showing Awareness and Confidence: Coaching Guide

Introducing the Trash Can and Different Trash Cans

Introducing the That's Not True Technique

Getting Centered: Group Coaching Guide

Moving Out of Reach: Group Coaching Guide
Setting a Boundary: Group Coaching Guide

Using Your Voice: Group Coaching Guide

Walk Away Practice: Group Coaching Guide

Hands Down Power: Group Coaching Guide
Part Three: Explanations and Social Stories
Introducing The Fullpower Friends

Recycling Hurtful Words

Accepting Compliments

Introduction to Emotional Triggers

Introduction to Verbal Attack

Controlling Our Emotional Thermostats

Talib Has a Grumpy Day

What is a Boundary?

Rosa Sets Good Boundaries
Rose Gets Help

Mei Lin Remembers That Problems Should Not Be Secrets

I Messages

The Joy of Being Single

Assessing Relationship Safety

Trouble at Home

The Boyfriend Problem

Verbal Self-Defense: Making a Connection, Creating a Distraction, Lying, and Yelling

Putting Safety First
Pricing options
$10 USD per person if you wish to enroll on your own. Use the contact form below to request a discount code that will allow you to enroll at
a reduced
price.

Need more financial support?
Use the contact form below to request a custom quote for your situation. Please tell us how many people and locations (sites) you wish to include in your enrollment.

Need more financial support?
Need a custom quote?
Tell us what you need
How many people do you wish to enroll as a group in this course?
Tell us how many locations or sites are included in your agency | organization.
other Kidpower courses or Resources you are considering?
Are you looking at enrolling your group to a single course or several of our offerings?
Anything else you think we should know to help provide you with a custom quote.
Irene van der Zande
Kidpower Founder and Executive Irene van der Zande is a master at teaching safety through stories and practices and at inspiring others to do the same. Her child protection and personal safety expertise has been featured by USA Today, CNN, Today Moms, the LA Times, and The Wall Street Journal. Publications include: cartoon-illustrated Kidpower Safety Comics and Kidpower Teaching Books curriculum; Bullying: What Adults Need to Know and Do to Keep Kids Safe; the Relationship Safety Skills Handbook for Teens and Adults; Earliest Teachable Moment: Personal Safety for Babies, Toddlers, and Preschoolers; The Kidpower Book for Caring Adults: Personal Safety, Self-Protection, Confidence, and Advocacy for Young People, and the Amazon Best Seller Doing Right by Our Kids: Protecting Child Safety at All Levels.

Book Adaptation and Tech
Meet the team that brought The Relationship Safety Book to life!
Amanda Golert
Kidpower Sweden Director
Relationship Safety Book Illustrator
Mackenzie Mitchell
Technical & Office Specialist