Bullying - What Adults Need to Know to Keep Kids Safe
Protect kids from bullying and empower them with skills!
Learn how to use and teach Kidpower self-protection skills and strategies to protect children and teens from bullying at school, home, online social media and gaming, and out in your community.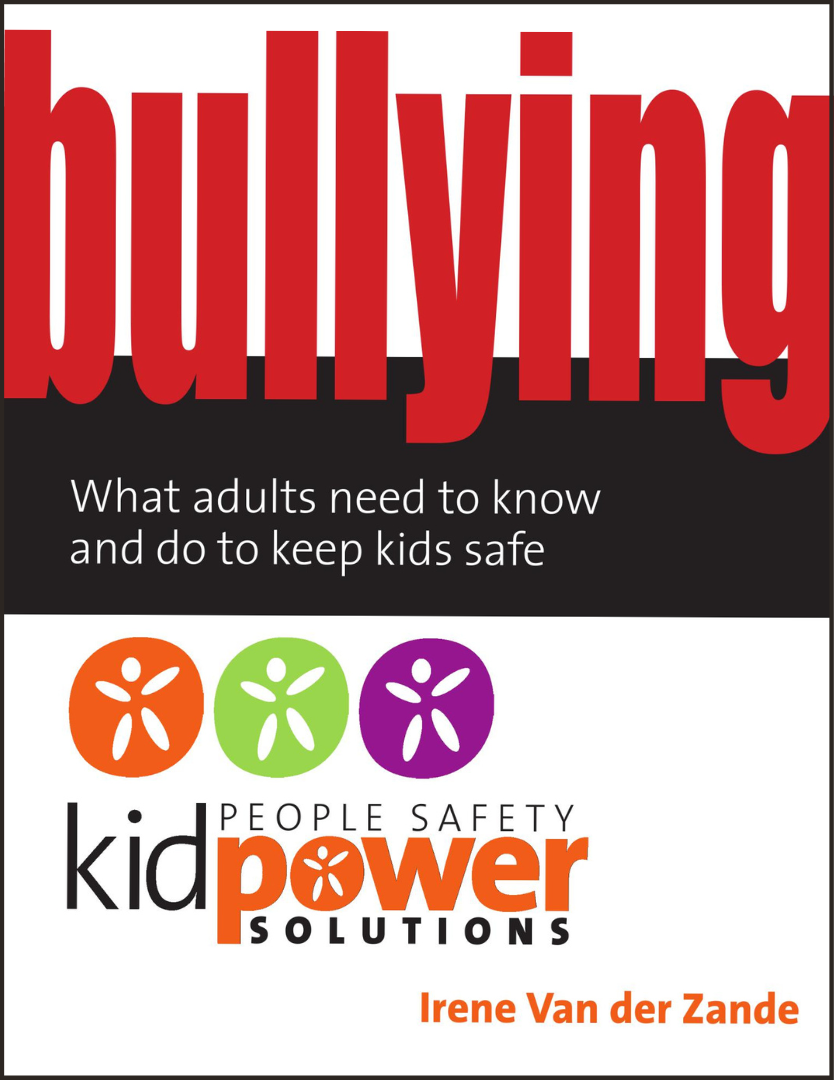 How do you prevent and stop bullying in schools, sports, playgrounds, and online?


How do you prepare children and teens to take charge and get help when they are confronted?
The skills and lessons in this book address how to use Kidpower practices to create cultures of caring, respect, and safety at school, at home, and in your community. The vivid stories, entertaining examples, and clear step-by-step explanations of what to say and do are relevant for addressing bullying with all young people, from toddlers to teenagers, and are even useful in dealing with adult-to-adult bullying.
Boundary setting skills are essential for healthy relationships.
Children need a strong
adult attachment.
Everyone has the right
to feel safe.
Table of Contents
Chapter 1: Bad News and Good News About Bullying

Chapter 2: Some Facts About Bullying

Chapter 3: What Makes Bullying Hard to Stop?

Chapter 4: Managing Emotional Triggers to Prevent Explosions

Chapter 5: Target Denial to Avoid Trouble

Chapter 6: Conflict Resolution and Interventions to Solve Problems

Chapter 7: Self-Protection Skills to Avoid Being Pushed, Tripped, Bumped, Hit, Kicked, or Shoved

Chapter 8: Getting Adults to Get Help

Chapter 9: Bully Physical Self-Defense Techniques

Chapter 10: Coping With Shunning, Exclusion, and Gossip

Chapter 11: Being Brave to Set Boundaries and Advocate

Chapter 12: Peer Pressure Tactics

Chapter 13: Preventing Sexual Harassment

Chapter 14: Other Solutions to Problems With Peer

Chapter 15: Stopping Cyber-Bullying

Chapter 16: Practice as a Management Tool for Unsafe, Disrespectful Behavior


Chapter 17: Common Questions About Bullying


Chapter 18: Building Strong "People Safety" Skills


Chapter 19: Tools for Creating a United Front Against Bullying

Comments from readers

"WOW!!!! This is a must read for any parent, teacher, school administrator ― any responsible adult who works with children and cares about both their physical AND emotional safety. It is well-organized, describing step by step what to do and say. I absolutely loved it."
"Bullying - What Adults Need to Know and Do to Keep Kids Safe is both entertaining while providing information regarding how to deal with bullying in a proactive and sustainable way. The techniques, practices, and methods covered throughout the book can be applied to all walks of life, not just those who are victims of bullying."
"Assertive empowerment to help break the cycle of bullying. The book includes examples of verbal responses for standing up to all kinds of bullying situations. I appreciate the emphasis on learning a skill, then practicing it to help it become engrained."
Pricing options
$10 USD per person if you wish to enroll on your own. Use the contact form below to request a discount code that will allow you to enroll at
a reduced
price.

Need more financial support?
Use the contact form below to request a custom quote for your situation. Please tell us how many people and locations (sites) you wish to include in your enrollment.

Need more financial support?
Need a custom quote?
Tell us what you need
How many people do you wish to enroll as a group in this course?
Tell us how many locations or sites are included in your agency | organization.
other Kidpower courses or Resources you are considering?
Are you looking at enrolling your group to a single course or several of our offerings?
Anything else you think we should know to help provide you with a custom quote.
Irene van der Zande
Kidpower Founder and Executive Irene van der Zande is a master at teaching safety through stories and practices and at inspiring others to do the same. Her child protection and personal safety expertise has been featured by USA Today, CNN, Today Moms, the LA Times, and The Wall Street Journal. Publications include: cartoon-illustrated Kidpower Safety Comics and Kidpower Teaching Books curriculum; Bullying: What Adults Need to Know and Do to Keep Kids Safe; the Relationship Safety Skills Handbook for Teens and Adults; Earliest Teachable Moment: Personal Safety for Babies, Toddlers, and Preschoolers; The Kidpower Book for Caring Adults: Personal Safety, Self-Protection, Confidence, and Advocacy for Young People, and the Amazon Best Seller Doing Right by Our Kids: Protecting Child Safety at All Levels.