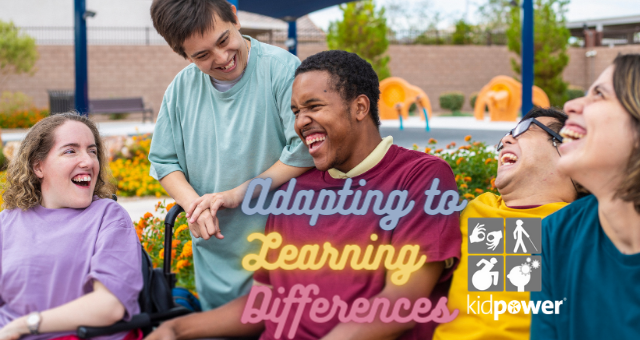 learn how to
Adapt to Learning Differences
Using the Kidpower Teaching Method, learn how to protect people with sensory, motor, and intellectual disabilities from bullying, violence, and abuse - and empower them with self-advocacy skills.

Taught by

Kidpower Senior Instructors

Visual learning

23 video segments

4 learning differences

• Hearing
• Mobility
• Sight
• Intellectual

1 Workbook
106 pages

Download PDF for your personal use

Total duration
3 hours
1 session

Price in USD

250 $ /person

4 learning differences

Learn how to adapt Kidpower 'People Safety' skills to people with learning differences around sight, mobility, hearing and thought processing.

Read. Watch. Practice.


Learn. Improve.
7 sections

4 topics


23 videos

3 series of small group practices


1 PDF workbook

Learn from the experts

You will learn from Senior Kidpower Instructors with lots of experience working and teaching people with specific learning differences.

Gain teaching skills

Through stories, insights and hands-on practice sessions of teaching 'People Safety' skills, you will learn introductory level skills on how to adapt your teaching to meet the needs of people with one of 4 kinds of learning differences.

training led by
Irene van der Zande

Irene is the Founder and Executive Director of Kidpower Teenpower Fullpower International. Since 1989, Irene's talented leadership and collaboration have earned Kidpower an outstanding reputation worldwide for developing, organizing, and presenting high quality child protection, positive communication, advocacy, self-defense, and personal safety programs and curriculums for everyone, everywhere.

She is an inspiring, passionate, and entertaining speaker, trainer, and storyteller who is a master at preparing people to transform problems into successful practices; to take charge of their safety and well-being; and to develop joyful relationships that enrich their lives.

Irene is a proven expert at adapting Kidpower's services and programs to meet the needs of those facing increased risks of bullying, abuse, and violence because of difficult life challenges such as disabilities, poverty, and prejudice.