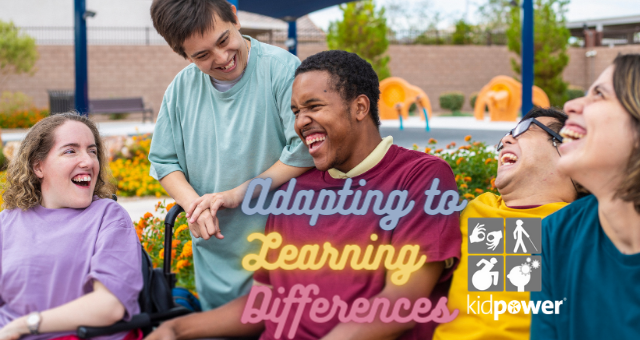 teaching skills for
Adapting to Learning Differences
Using the Kidpower Teaching Method, learn how to protect people with sensory, motor, and intellectual disabilities from bullying, violence, and abuse - and empower them with self-advocacy skills.

Taught by

Kidpower Senior Instructors

Visual learning

23 video segments

4 learning differences

• Hearing
• Mobility
• Sight
• Intellectual

1 Workbook 106 pages

Download PDF for your personal use

Total duration
3 hours
1 session

Price in USD

50 $ /person

What's included?
7 sections

4 topics


23 videos

3 series of small group practices


1 pdf workbook

4 learning differences
Learn how to adapt Kidpower 'People Safety' skills to people with learning differences around sight, mobility, hearing and thought processing.

Learn from the experts

You will learn from Senior Kidpower Instructors with lots of experience working and teaching people with specific learning differences.

Gain teaching skills

Through stories, insights and hands-on practice sessions of teaching 'People Safety' skills, you will learn introductory level skills on how to adapt your teaching to meet the needs of people with one of 4 kinds of learning differences.

Meet our team
Learn and practice with experienced Kidpower Trainers and Instructors
Irene van der Zande
Kidpower Founder and Executive Director
Erika Leonard
Kidpower Trainer and Community Education Director
Amanda Golert
Kidpower Trainer and Curriculum Development Consultant
Marylaine Léger
Kidpower Trainer and International Programs Director
MJ Hayes
Kidpower Trainer and North Carolina Director
Susan Lombardo
Kidpower North Carolina Instructor
Cornelia Baumgartner
Kidpower Program Director for Empowerment Trust NZ