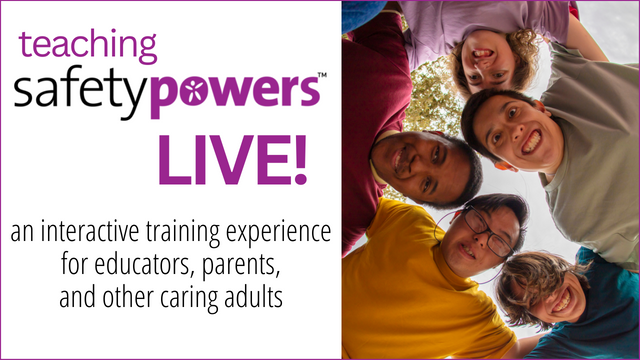 Teaching Safetypowers - LIVE!
For educators & leaders committed to empowering teens and adults
who have communication challenges
Enroll to watch a recorded past event
and to get the next live event link when scheduled

Our next event will be offered twice on the same day via Zoom :


12-1 pm PT

or

5-6 pm PT



Once enrolled, the button below will say 'Continue' so you can get started!

Are you dedicated to helping adults and teens with communication challenges build skills for independence?

Do worries about bullying, abuse, harassment, or assault - in public, at work, at school, at home - stop you or them from making the most of opportunities that could help them grow, learn, and thrive?

This live online special event is for YOU - and for all adult leaders committed to empowering adults and teens who have communication challenges with practical, adaptable skills they can use to take charge of their safety.

This is a unique opportunity to get LIVE coaching from a senior team of Kidpower Trainers!
Learn more about this live interactive program!
Funded by Ability Central, the
Safetypowers Project
is focused on making safety skills accessible for people with communication challenges. This project led to the creation of the Safetypowers Course, a free, self-paced online resource you can start using right away.
Available in English and in Spanish, the Safetypowers Course is used every day by individuals who have communication challenges - as well as by educators, adult and youth service professionals, parents, and other caring adults committed to the safety of people with communication challenges.
The Safetypowers LIVE Program is a unique opportunity to get a hands-on, tailored experience exploring and using the growing number of videos, skills guides, articles, and other free resources waiting for you in the Safetypowers Course. We're excited to have you join us for our next LIVE program - and, you can watch the recorded event and start using the Safetypowers Course resources now - there's no need to wait!
Clicking on the images below will take you to the
Safetypowers Course
(English) or to
Poderes de Seguridad
(Spanish). Enrolling in the course takes just minutes!
Meet your teaching team
Irene van der Zande, founder of Kidpower,
Erika Leonard, Community Education Director,
MJ Hayes Curriculum Development and Training Leader, and
Marylaine Léger International Programs Director

Join a senior team of Kidpower International trainers with 100+ years of combined experience leading our Safetypowers program as well as our Teenpower and Fullpower Adult Safety adapted programs to practice strategies and skills to help stop bullying, assault, abuse, and domestic violence - and to build safe, strong relationships of all kinds.
We are grateful for the generous support of Ability Central, formerly known as the Disability Communications Fund (DCF). They have been making grants and collaborating with community leaders to improve communication and information access for people with disabilities since 2010.

Ability Central's mission is to serve as an educator, convener, and resource that works collaboratively to ensure communications and information access in service of individuals who are D/deaf or disabled.
Learn more about our funder:
This live online program is tailored for educators, adult services providers, parents, and other caring adults who provide services, care, or mentorship for adults or teens with communication challenges. So, knowing more about who YOU are will help us plan.
During the session, our team of trainers will share skills and strategies, both for use in person and online, around topics such as:
Bullying prevention
Abuse prevention
Assault prevention
Domestic violence prevention
Building safe, strong relationships
You'll learn techniques for adapting skills based on your needs. Safety skills can include:
Boundary setting
Advocacy
Safety in public
Managing emotional triggers
Throughout the session, the training team will use the
Sa
fetypowers Course
resources so that you can leave with more familiarity with the course and its resources. You will also have opportunities to get hands-on experiential practices and personalized coaching in ways to support your use of the skills and the Course based on your own unique situations.